This is a guest post submitted by Nick from Chatwing.
What Chatwing Can Do To You?
People like private things; once their privacy is secured, they feel more content and happy. This is the reason why many people want to have password-protected accounts and apps. When Chatwing Development Team integrated the private messaging feature to their widgets, it was widely accepted by many users. According to the users, the feature helped them secure their chatrooms effectively.
Do you want to know how you can use Chatwing's private messaging system?
First things first: registration. If you want to have your own dashboard, you need to register in Chatwing's main website. The website will just prompt you to enter your email address and desired password. Now that you've done this, you can now go to your dashboard and create the widget that you want.
After customizing the chatroom, you can now embed it to your blog or use it independently. To embed the chatroom, just copy the code and paste it to your blog editor. The chatroom will become active in just seconds. Now, you can choose from IFrame or HTML code options. If you want to use the chatroom independently, just get the shortlink and paste it anywhere you like. If your friends click on the link, they can now begin chatting with you.
The private messaging function can be accessed in real-time. Once the chatbox is active, you may click the icon and you'll enter the private messaging setup. You can see all active users whom you have chatted to privately. In this way, you can track conversations and remember important people. Private Messaging has also appealed to Android users, since they feel more 'in control' of their widgets.
Even if the PM function is new, Chatwing Team assures everyone that it is doing well and bug-free. More features will definitely appear in the coming months.
Chatwing also has the ability to help with online jobs and achieving financial independence in the coming years. As long as the Internet is up and running, there will always be a plethora of online jobs and rackets. Everyone is looking for ways on how to rake profits on the Web, thus leading to the creation of online jobs. If you're looking for a simple way to find reliable online jobs, you can use this simple free chat app.
The Chatwing widget is popular for its universality and flexibility. It can be used to achieve various online goals, such as those related to interaction with people. Aside from that, the Chatwing platform also allows you to render different customization styles – fonts, sizes, and other settings can be tweaked according to your preferences.
If the widget is connected to a network, there's an even higher chance that you can find online jobs. Currently, there are dozens of available networks in Chatwing; you can choose any of these networks anytime you want.
If you're serious on finding online jobs and you have a blog for reputation, you can simply embed the Chatwing widget. After creating the design that you want, you must copy the generated code (IFrame or JavaScript) and paste it to the editor panel of your blog. This process takes only few seconds, and the chatroom will become active right away.
Aside from installing the regular chat widget, you can go for premium services. Each premium service costs 1 Chatwing Coin – which you can purchase in bundles. Technically, 1 Chatwing Coin is equivalent to $ 1. The services can be terminated anytime you want. These are some of the services that you can choose: secure socket layers, custom subheader, custom logo, Chatwing Logo Removal, and Social Sharing Removal.
It may take patience to find online jobs in Chatwing widget. However, if you have the right strategy, you'll be able to find what you're looking for.
Also regarding private chatting, Chatwing's premier chatroom tool, the developers of the widget have many additional features planned for all users. This will make online chatting even more fun than before. If you're wondering about the things you can do with the Chatwing app, read on.
Create Unlimited Widgets
We all have a knack for creating things and improving older versions. Chatwing developers believe this – as attributed to the platform's unlimited widget creation. Once you've registered in the Chatwing site, you can now make as many widgets as you want. Can you maintain 1000 active chat rooms? Well, there's only one way to find out.
Create a chat room of Your Portrait
While other chatroom tools also allow you to customize appearances, the Chatwing app goes deeper than what's expected. Since you're free to design your own chat room, you have greater flexibility and control. Do you want to create a chatroom with your own image embedded? This can be done by getting the link form of the image and pasting it in the editor. Once you saved the setting, your picture will appear instantly. Your visitors will probably be delighted.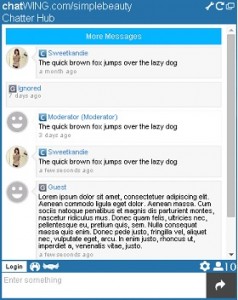 Chat with Social Media Users
Today, an app that can't be linked to social media is potentially worthless. Every day, people wish to be connected to social media, such as Facebook and Twitter. Chatwing chatroom utilizes social media in many ways possible. You can add friends in Facebook and Twitter, as well as in these other networks: LinkedIn, VK, Tumblr, Instagram, Google, and Yahoo. Now, that's versatility!
Use Private Messaging and Private Chats
Chatwing is a tool that hears you out. If you're seeking for private chatting, you can now do so. With the launch of the private messaging function, you can now message your friends and colleagues who are also active chatters in your widget. To do this, just click the private messaging icon and you can now proceed. Note: only those with usernames and social-logged in accounts can do private messaging. Sorry, guests!
Setting a private chat is also easy. You can just add password to your chat room, and create your own shortlink to be shared to friends.
The Chatwing web chat widget is a dynamic app that is fun to use and highly beneficial. Use it today and check out its sheer online wonders.